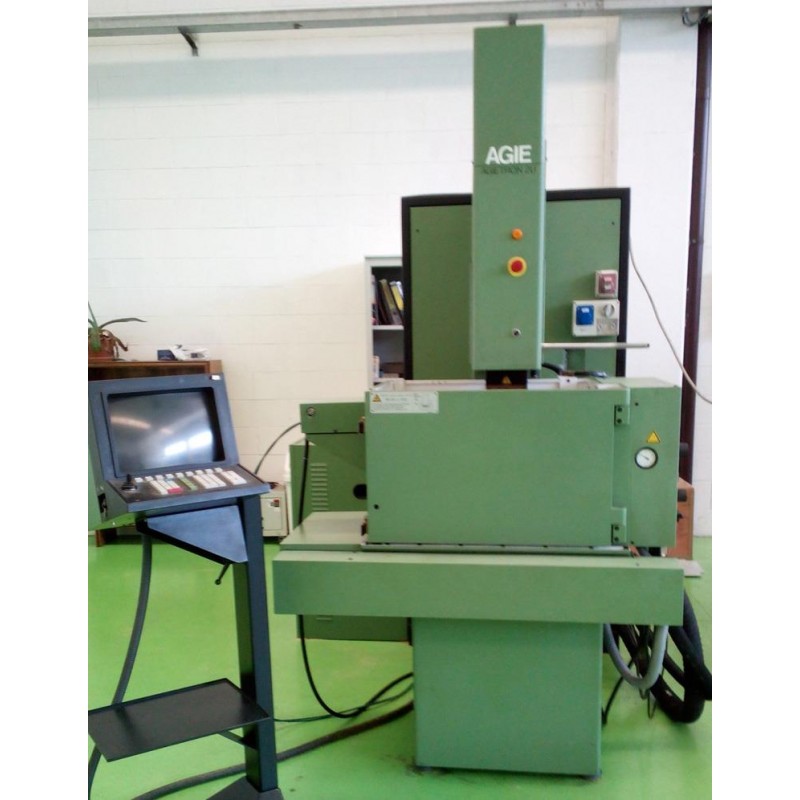  
AGIE U2
The machine has been carefully disassembled, washed and cleaned in every part withreplacement of worn parts.
The machine was subsequently tested in his functions with repeated positioning and erosion cycles.
This is a unique opportunity that allows you to have a machine at control numerical of a prestigious brand, complete with C axis with pneumatic spindle macro 3 R and of a 3 position electrode change, particularly suitable for works of precision on small and medium-sized pieces, completely overhauled, with a extremely interesting price.
TECHNICAL DATA AGIE U2 CNC
MECHANICS
Bracket plane mm. 490 x 370
Work tank dimensions mm. 710 x 520 x 450
Max piece weight Kg 500
Max direct electrode weight (under C axis) 70 Kg (30)
Racing X - Y - Z mm. 320 - 220 - 250
Table distance - mm. 200-450
Max rotation speed Axis C rpm 40
Change of position electrodes N. 3
Max. Electrode weight Kg. 3
Dimensions W x D x H mm 1335 x 1450 x 2425
Weight 1250 kg
GENERATOR
Max power KWA 5
Current supplied max Amp. 30+ 30
Dimensions mm 1000x1180x2100
Weight 700 kg
DIELECTRIC GROUP
Lt 420 capacity
Filtering 2 Cartridges
Cooling device included
Dimensions 500x1000x988 mm
Weight 240 Kg